CLAIMS® DIRECT: Patent Web Service and API
Data for your Application

Developer Resources and Tools

Scalable Deployment Options

•

National Patent Office Full Text (US, CN, EP, PCT and more)

•INPADOC Data Integrated into Full Text Records

•IFI Value Added US Data (Standardized Names, Expirations and more)

•Consistent XML record format across all authorities

•

RESTful Web Services for Search & Retrieval

•Licensing with No Usage Limits

•Host on Your Private Cloud
The System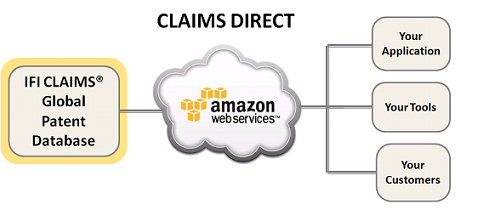 Patent data from major publishing authorities is integrated into a uniform data store. CLAIMS DIRECT is designed to support a wide variety of applications from data analytics to full text search solutions.

The basic service uses Postgres, an open source relational database environment, and includes a SOLR/Lucene index for an easy interaction with the data.

Rather than struggling with multiple provider licenses, writing and constantly maintaining parsers, and loading local databases, you can link your applications directly to an environment that is actively maintained and QA'd. You can interface with standard RDBMS tools, web services, or via JDBC.

And if you need specialized services to a local proprietary environment, we can almost certainly help you build the middleware necessary to ensure stability and transparency.
Data Coverage and Formats

Data from different sources are normalized and merged into a single proprietary ST.36-based XML format. The standardized format is used for all new patent documents as well as updates that include including legal status, US reassignments or referenced images.
Storage and format features:
Single storage XML DTD for all data sources.
Legacy data and current documents unified into a single format.
Multiple data from different sources related to the same entity merged in one record.
Main content-related features:
Normalization of applicant and author names as well as document numbering based on standard files such as DocDB.
Legal status and re-assignments included.
Patent abstracts and fulltext from PCT's used to fill incomplete information for Euro-PCTs.
DocDB family IDs, application and priority information allow the construction of patent families based on user parameters.
Multilingual content stored with language tags.
Tags for data sources allow filtering.
Ability to separately extract and deliver new patents as well as incremental updates to existing records.
What can you do with CLAIMS DIRECT?

We provide you with agile and cost-effective access to more than 80 million patent records.

With CLAIMS DIRECT, you can:

Define your own selection criteria to extract data feeds that can be downloaded, integrated into your internal servers, linked to corporate data or enriched with semantic annotation tools. You can create your own data mart.
Link your applications to data and indexes on the cloud and get data into the hands of your business and scientific users. Integration is through the well established, documented and supported web service interface.
Combine our high quality, consistent data with the analysis tool of your choice. You are not locked into one vendors tools. We deliver the data, you determine how to use it. Our licensing terms give you maximum flexibility to use the data as you wish.
Contact Us to learn more about our service, our pricing and our flexible licensing terms.