The Shift to Intangibles
Over the past 50 years, the balance sheet mechanisms for establishing total value have shifted dramatically from the concrete assets of property, plants, and equipment to the less physical intellectual possessions of invention, branding and software, among other things. This swing can be summed up in this powerful statistic from the Ocean Tomo Intangible Asset Market Value Study: Between 1975 and 2020, intangible assets—such as patent, trademark, and copyright holdings—went from 17% of the S&P 500 market value to a whopping 90%. Here is another compelling statistic from a recent McKinsey study about capital spend on assets; investment in intangibles increased by 29% in the past 25 years, while investment in physical assets decreased 13% over the same time period. The McKinsey analysis also points out that companies in the top quartile for growth invest 2.6 times more in intangibles than companies in the bottom two quartiles combined.
Considering the extraordinary transformation in the type of assets powering American business, it's hard to overstate how vital it is for corporations and investors to understand the value behind a company's IP. Unfortunately, it's not as simple as looking for a line item in accounting statements, unless, that is, the intangibles were acquired. For IP developed in-house? Well, good luck with that. The Nike swoosh, most everyone agrees, is one of the most valuable logos on earth. But you're not going to find that value quantified in public documents in the same way Nike's headquarters building can be valued and brought together with other physical assets.
At IFI CLAIMS, we provide the data, platform, and enrichment tools that deliver unparalleled insights into the patent portion of the intangible asset puzzle. How is this useful for your enterprise? In patent licensing or M&A, for instance, it's crucial to understand the prospects and lifespan of a target company's patent portfolio before deciding to allocate precious capital in that direction.  And in a competitive landscape, it's essential to know where your business rivals might be gaining an upper hand or whether you could be falling behind in the R&D arena.
IFI Snapshots & Names:
Two Dynamic Tools that Elevate Patent Perception
Just because patent filings make inventions public doesn't mean patent information is transparent. In fact, patents are famous for their impenetrability. Patents are also notorious for their inherent inconsistencies, understandable when you consider that data is sourced from 100-plus patenting authorities.
That's where IFI CLAIMS comes in, with a collection of tools that standardizes and normalizes disparate patent data, helping users better grasp the intricate information behind invention. The two that we are highlighting and demonstrating in this paper are IFI Snapshots and IFI Names—a double-decker knowledge stack that helps users quickly discern the salient elements of any patent portfolio. The result: improved competitive intelligence, which helps investors and enterprises make better decisions.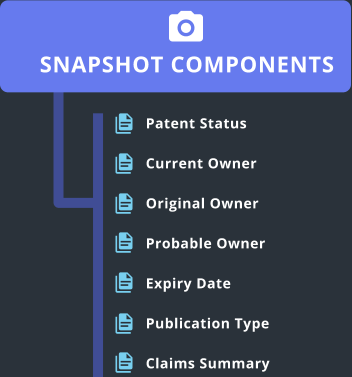 IFI Snapshots: The Simple Facts of the Patent
Foundational to any sort of internal patent analysis is IFI Snapshots, which furnishes all the key patent metrics in one concise summary at any given moment in time. It's important to note that the "moment in time" concept is key. Patent information is dynamic, as rights are granted or expire, purchased or sold off. At IFI CLAIMS, we don't place the burden of interim data modifications on our clients. We process the changes as they come in, and they're seamlessly updated in client systems all at once, without any effort or input required on their part.  Included in an IFI Snapshot: a precise, searchable, standardized name (more on that in the next section), a summary that annotates dependent and independent claims, the original owner of the patent, and the current owner of the patent.  IFI Snapshots also provides patent status, identifying whether a patent is pending, granted, or inactive, along with anticipated and adjusted expiration dates that we calculate with our proprietary algorithms.
IFI Names: Lending One Name to Patent Assignees and Applicants
What's in a name? If you're to believe William Shakespeare in his immortal line from the play Romeo and Juliet, the answer is, well, not much. He declared that roses smelled sweet no matter what you called them. With patents, names present a much thornier problem. From where we sit, there is nothing sweet about a company that registers itself under varying name iterations. To a patent searcher, that's a major problem.
Big business often operates under several different names as a result of cultivating diverse brands, procuring other enterprises, and operating in multiple geographies. But also, when it comes to documenting rights to an invention, corporate identities aren't recorded uniformly. The result can be a mass of different name designations for the same company, which makes finding and listing patent assets challenging. That's why we created IFI Names. Drawing from our deep involvement over seven decades in the proprietary and painstaking work of name standardization and normalization, IFI's Names Service weeds through name inconsistencies, consolidates an entity's various licensed names and identities, corrects misspellings, removes punctuation and other special characters, and interprets each name iteration, allowing users to skip the onerous process of patent data cleaning.
IFI then assigns a standard name to each corporate entity. Our work ensures that you don't miss information in your search because of a typographical error or an overabundance of corporate identities. Our editorial team then keeps track of corporate name changes—such as Facebook's rebranding to Meta in October 2021—and promptly updates them in the system.
To see how IFI Names works in the real world, let's use the example of the multi-national corporation IBM, which started more than 100 years ago and has more than 2,000 name iterations in its patent documents—yes, you read that correctly: more than 2,000. Just to name a few of those: International Business Machines, IBM Deutschland GmbH (that's the German arm of its business), I.B.M., and International Business Machines Corporation—you get the picture. How does this affect the patent searcher? If a searcher is only using the term IBM, thousands of patents will go undetected without name standardization. As for searching every iteration of IBM's name? That's impractical. Other patent data providers try to solve this problem by comparing addresses. But addresses change. At IFI CLAIMS, we believe the proof is in the standardized name.
Looking ahead: IFI Snapshots and Names provide your organization with critical IP information, delivered swiftly, that helps you with the careful due diligence you need to perform for complex decisions that propel your organization forward.
Now, let's see how it all works together using the recent merger of two paper companies called Neenah Inc and Schweitzer Mauduit International Inc (SWM).
Reunited, But Is It a Good Fit?
Like many business unions, the March 28, 2022 announcement of the Neenah Inc and Schweitzer Mauduit International Inc combination was billed as a "merger of equals," with "highly complementary technologies, geographies and product portfolios in specialty materials." Both companies, it should be noted, had common roots. They used to be paper-focused subsidiaries of Kimberly Clark Corp, a multinational corporation that makes Kleenex tissues and Huggies diapers, among other personal care products. SWM, a manufacturer of engineered films, tapes, foams and papers, was spun off in 1995, when Kimberly Clark Corp divested its paper products that supplied the tobacco industry. Neenah Inc a maker of filtration, specialty coatings, and other engineered materials, spun off in 2004. Coming back together, as an approximately $3 billion enterprise under the elegant new name of Mativ Holdings Inc, is a homecoming of sorts.
In the initial announcement of the merger, the two companies offered six strategic and financial benefits of the merger. One of them focused on accelerating innovation. According to the press release: "The combined company's suite of technologies, intellectual property, and R&D capabilities in material science is expected to accelerate the pace of innovation, with the potential to deliver breakthrough, high-growth products that better meet the ongoing needs of customers and drive long-term profitability for shareholders."
That's a big promise. From a shareholder perspective, it's worth examining the intellectual property part of that promise to find clues about whether management will be able to deliver on this innovation pledge and drive returns for shareholders.
The merger was completed in July of 2022, but it's a good exercise for our purposes to take a step back before the merger was finalized. Using the two tools from IFI CLAIMS described above, let's perform a little due diligence on the merger through the lens of the patent portfolios, a key part of the companies' intellectual property.
Catching Their Names: Along with Tickers, Addresses, and Patent Holding Subsidiaries
Here is a look at the two companies using IFI Names:
Neenah Inc
Country: US
Parent Relationship: Owner
Ticker:

Symbol: NP
Exchange: XNYS

Status: V
Address: 3460 Preston Ridge Road, Suite 600,


Alpharetta, GA, 30005, US

Category: Public
No. of subsidiaries: 17
Schweitzer Mauduit
International Inc
Country: US
Parent Relationship: Owner
Ticker:

Symbol: SWM
Exchange: XNYS

Status: V
Address: 100 North Point Center East,


Alpharetta, GA, 30022, US

Category: Public
No. of subsidiaries: 52
IFI Names shows us several important data points on both companies:
Both companies are U.S.-based, and both have corporate addresses in Alpharetta, GA.
Both are publicly traded on the New York Stock Exchange.
Neenah Inc has 17 subsidiaries under its corporate umbrella, while SWM has 52 subsidiaries.
All of the information has been fully verified by IFI's editorial team.
A Solid Foundation: The Building Blocks of Patent Intelligence
Next, we look at the merger using a sample Neenah Inc patent through IFI Snapshots:
Patent Number US-8535469-B2
IFI Patent Status
anticipated-expiration
20241230
adjusted-expiration
20270924
ifi-patent-status-description
Active
ifi-term-extension
998
IFI Standardized Name
name
Neenah Paper Inc
country
US
type (US only)
U.S. Company or Corporation
IFI Standardized Name
- Current
name
Neenah Inc
country
US
Claims Summary
total claims
18
independent claims
1
Diving deep into the critical metrics on this one given patent, we can see the following data on patent US-8535469-B2:
The patent is active and will be in force until Sept. 24, 2027, assuming all fees are maintained.
The adjusted patent expiration, an allowance that compensates for delays by the USPTO during the patent prosecution process, includes 998 days of Patent Term Adjustment (PTA).
At the time the patent was granted, Neenah Paper Inc was the assignee. The current Assignee is Neenah Inc (as of April 2022, before the merger).
There is one independent claim and seventeen dependent claims.
Synthesis and Analysis: The Upshot of IFI Names and Snapshots
Now let's fast forward on all the information gathering and combine everything we found into one side-by-side comparison:
Neenah Inc
Collection seems more traditional Paper:

Separation (B01D)
Abrasives (B24D)
Printing/Duplicating (B41M, Mainly from Coldenhove)
Pulp & Papermaking (D21H)
Layered Products (B32B)

768 records (has_an AND pridate:[20000101 TO *])
About half the number of records as SWM
117 unique Family IDs
No Utility Models in China
Schweitzer Mauduit
International Inc
More of a mixed portfolio:

Tobacco & smoking products (A24B & A24D)
Medical products/bandages (mainly from Scapa & First Water) (A61L, A61F, A61K)
Food-related records (A23F)
Pulp & Papermaking (D21H)
Layered Products (B32B)

1593 records (has_an AND pridate:[20000101 TO *])
282 unique Family IDs
About 60 Active Utility Models in China (all under Delstar Technologies Suzhou Co Ltd)
Being able to examine the similarities and differences in the two companies' patent portfolios is where the real value lies when conducting due diligence on a target company. As it relates to the Neenah Inc and SWM merger? The M&A team would be able to establish the following:
While Neenah Inc and SWM certainly have overlapping technologies in pulp and papermaking (CPC Code D21H) and layered products (CPC Code B32B), the majority of Neenah Inc's patent portfolio centers around producing traditional paper; SWM's portfolio varies more across a range of industries. The patent diversity could be considered a positive by investors, who generally don't want to pay for technologies currently owned in-house, unless they're trying to eliminate competition.
SWM has 60 active utility models in China under its subsidiary Delstar Technologies Suzhou Co Ltd. The use of utility models allows SWM to manufacture in China without anyone else infringing on their invention, giving SWM a distinct competitive advantage because these utility models give 10 years of protection without any examination by an expert. For background, utility models are unique—they aren't patents per se, but they give a company an entire decade with no extensions for minor inventions or improvements, which allow grantees a limited, but generous, period of protected, exclusive rights for innovations that aren't necessarily patentable. In fact, applicants in China frequently gain quick coverage with a utility model, and then apply for full-blown patent protection down the line, which will extend the rights. In the case of SWM, their 60 utility models give them plenty of room to maneuver. Theoretically, SWM should be able to create competitive runway in that geography before others are allowed to muscle in on their territory. Potential investors should see this information as a positive. Interestingly, Neenah Inc does not have any utility models in China.
Bottom line: the information above helps investors fill out the investment picture with public information about two companies — information that goes beyond the usual backward-looking financial statements and helps clarify the value of future technologies that may spring from the Neenah Inc and SWM merger.
Going Further: Next Steps in Patent Analysis
Investment theories are formed for many different reasons. Each investor has different perspectives and purposes; companies target other companies with varying aims. Whatever the case, the due diligence underpinning the possible capital spend needs to include an independent investigation of an entity's patent assets to sharpen an investor's premise of a target's relevance in the market and potential to continually grow its market position. Analyzing upcoming mergers through the lens of patent data offers potentially lucrative insights on current holdings, future technology trends, and forthcoming breakthrough innovations. Prudent investors should ask themselves:
Which technologies are in a company's portfolio? Which aren't?
How much of the portfolio covers a given technology?
Are other companies filing similar technologies?
What are the top geographies where companies are filing patents?
These are just a few sample questions which will open up new avenues in the due diligence process on companies owning patent assets. Getting a better handle on such questions will give a careful investor more confidence in the decision-making process, and more of that all-important edge that investors seek.
In terms of our Neenah Inc and SWM merger analysis, topics for further exploration could be delving into European Patent Office (EPO) applications, which can reveal geographic trends and information. Similarly, looking at the Patent Cooperation Treaty (PCT) applications can provide valuable, high-level insights into a company's filing history and strategy, and offer ways of predicting future initiatives.
Timing, so they say, is everything, and timing holds clues when it comes to patents. For the EPO applications, mentioned above, competitors have nine months, for example, to file oppositions after a publication of Intent to Grant. With that in mind, a search conducted immediately after the initial announcement, may not yield much to the patent searcher trying to discern a company's strategy. Which is why patent searches are never a once-and-done kind of thing. Any patent professional recognizes that searching is a continuous process over an extended period of time. At IFI, we understand that. Every day brings new patent data, and as soon as we have the data from patent authorities, our clients get it right after, automatically revised in their systems without any laborious input and tracking on their end. End result: easier, more up-to-date, more accurate searches.
With competitive patent intelligence, it's also important to understand that companies routinely try to obfuscate their intentions when it comes to their portfolios. One way to do that in Europe is to seek blanket protection under every country in the initial filing, in order to buy time to figure out which protections in which countries aren't worth the money. That's when companies stop paying their patent annuities. A side effect of those lapsed fees is a disclosure to the market, so to speak, of where the strategy is heading and where they think they can make a profit. Dates and times are crucial to patent analysis, so it's beneficial for searchers to be on the lookout for initial filing dates, grant dates, and countries of interest (made possible by the fact that the EPO applicant is required to validate the countries under which they seek patent protection). And given that some patents require both regional and national filing, a strategic patent searcher should keep an eye on this as a way to figure out the direction of a company's filing approach in advance of others in the market who might have the same company in their crosshairs.
The evaluation of patents for M&A is a complex endeavor, but significant advantage awaits those willing to dive into the trove of information available through IFI CLAIMS' patent data analysis tools. We've shown you two tools in this discussion paper. We invite you to explore our suite of IFI patent tools beyond the Neenah Inc and SWM merger to see what insights and intelligence that you can discover for your venture.
To begin your search and analysis, Contact the IFI Team.