It can be a challenge to stay on top of the patent assets of large companies with many subsidiaries. It's easy to overlook the true impact of a particular organization if you're unaware of its holdings and what the combined picture looks like.
Janice Stevenson, EVP of Client Relations, will highlight new ways to discover the innovative technologies being introduced by established organizations. Drawing on new intelligent reporting capabilities in CLAIMS Direct, she will explain how to employ Ultimate Owner relationships to uncover subjects of interest that may be unknown to researchers using traditional patent search methods.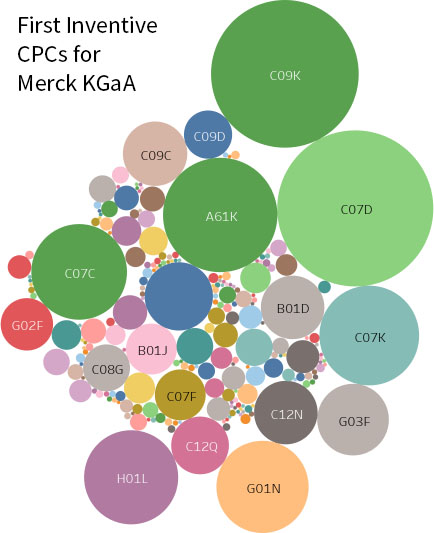 Focusing on German companies active in the renewable energy sector, we were surprised to find that when considering subsidiaries revealed through Ultimate Owner relationships, Merck KGaA emerged as the owner of the second largest portfolio of patents in this field. Although they are widely known as a global healthcare leader, you may be surprised to learn why Merck KGaA and its subsidiaries are competitive in this area and what types of inventions they are patenting.
Currently in beta, the Ultimate Owner data enhancement in CLAIMS Direct enables users to create a portfolio report which summarizes an Ultimate Owner's global patent assets, grouped by patent family. IFI defines an Ultimate Owner as a corporate entity that has one or more subsidiaries with patent assets – i.e. subsidiaries that appear as either original or current patent applicants or assignees.
Visualizations created with Tableau using IFI data and illustrating a variety of interesting findings will be presented.
IP Service World will take place November 26-27 in Munich, Germany. Janice Stevenson's presentation will be on Monday, November 26 at 16:40. Visit the
conference website
for more information.