Capitola resident Larry Cady is not a patent attorney but does have over 20 years experience working with an analyzing patent data and trends.

Silicon Valley companies like Intel, Apple and Google are leading patent recipients as tracked by the IFI CLAIMS Patent Services
Annual Patent Ranking for 2018
. These three companies combined for 6,965 US patent grants in 2018. What does patent activity in the Monterey Bay area look like?
I looked at the numbers. Specifically, I look at patents granted to companies (patent owners or "assignees") with addresses in Santa Cruz, San Benito and Monterey Counties. I do not include companies not based in the region. So, while local inventors do make major contributions to Amazon and many companies in Silicon Valley, I do not count them here.
Overall Trend
Here is the overall trend. The dark line shows all local patent grants from 2001 to 2018. It shows a steep decline.However, much of that decline is due to Seagate—which moved from Scotts Valley to Cupertino. The red line excludes Seagate and it shows a slow steady increase. There was a slight decline in 2018, but this occurred nationwide, and the decline is probably temporary. Either way, the overall numbers are much smaller than those seen in Silicon Valley but the trend is positive.
Companies
Which local companies received the most patents in 2018? Here are the top 12: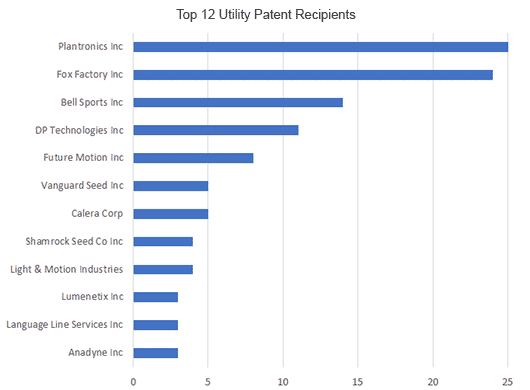 Assignee
2018 Count
Plantronics Inc, Santa Cruz
Example: US-10152959-B2 "Locality based noise masking"
25
Fox Factory Inc, Scotts Valley
Example: US-10160511-B2 "Method and apparatus for an adjustable damper"
24
Bell Sports Inc, Scotts Valley
Example: US-10098407-B2 "Helmet with airflow ventilation through an earpad" (A42B)
14
DP Technologies Inc, Scotts Valley
Example: US-10022086-B1 "Extended band system"
11
Future Motion Inc, Santa Cruz
Example: US-9999827-B2 "Self-balancing skateboard with strain-based controls and suspensions"
8
Calera Corp, Moss Landing
Example: US-10161050-B2 "Ion exchange membranes, electrochemical systems, and methods"
5
Vanguard Seed Inc, Salinas
Example: US-10098310-B2 "Lettuce cultivar omega 73"
5
Shamrock Seed Co Inc, Salinas
Example: US-9974277-B2 "Lettuce named python"
4
Light & Motion Industries, Marina
Example: US-10131392-B2 "Rechargeable bicycle light system"
4
Lumenetix Inc, Scotts Valley
Example: US-10098199-B2 "Architectures for light emitting diode (LED) lighting systems"
3
Language Line Services Inc, Monterey
Example: US-10083173-B2 "Artificial intelligence based language interpretation system"
3
Anadyne Inc, Santa Cruz
Example: US-10120062-B1 "Method for transmitting and receiving radar signals while blocking reception of self generated signals"
3
Where is local data analysis software firm Looker on this list? I looked. They received one patent in 2017 and another in 2018. For example, see
US-9824118-B2
– "Querying one or more databases".
Technology
What kinds of technology are being patented? To get insight into that question, I look at the way the Monterey Bay patent grants are classified by the US Patent Office. Patent are classified using the
Cooperative Patent Classification scheme
. Here are the Top CPCs (I use the first inventive CPC Class):
| | | |
| --- | --- | --- |
| CPC | Count | CPC Definition |
| F16F | 10 | SPRINGS; SHOCK-ABSORBERS; MEANS FOR DAMPING VIBRATION |
| G06F | 10 | ELECTRICAL DIGITAL DATA PROCESSING |
| A01H | 9 | NEW PLANTS OR PROCESSES FOR OBTAINING THEM; PLANT REPRODUCTION BY TISSUE CULTURE TECHNIQUES |
| A42B | 9 | HATS; HEAD COVERINGS |
| A63C | 7 | SKATES; SKIS; ROLLER SKATES; DESIGN OR LAYOUT OF COURTS, RINKS OR THE LIKE |
| G10K | 7 | SOUND-PRODUCING DEVICES; ACOUSTICS NOT OTHERWISE PROVIDED FOR |
| H02J | 7 | CIRCUIT ARRANGEMENTS OR SYSTEMS FOR SUPPLYING OR DISTRIBUTING ELECTRIC POWER; SYSTEMS FOR STORING ELECTRIC ENERGY |
| H04R | 7 | LOUDSPEAKERS, MICROPHONES, GRAMOPHONE PICK-UPS OR LIKE ACOUSTIC ELECTROMECHANICAL TRANSDUCERS; DEAF-AID SETS; PUBLIC ADDRESS SYSTEMS |
| B60G | 6 | VEHICLE SUSPENSION ARRANGEMENTS |
| B62K | 6 | CYCLES; CYCLE FRAMES; CYCLE STEERING DEVICES; RIDER-OPERATED TERMINAL CONTROLS SPECIALLY ADAPTED FOR CYCLES; CYCLE AXLE SUSPENSIONS; CYCLE SIDE-CARS, FORECARS, OR THE LIKE |
| H04L | 6 | TRANSMISSION OF DIGITAL INFORMATION, e.g. TELEGRAPHIC COMMUNICATION |
| A61B | 5 | DIAGNOSIS; SURGERY; IDENTIFICATION |
| A61K | 5 | PREPARATIONS FOR MEDICAL, DENTAL, OR TOILET PURPOSES |
| B62J | 5 | CYCLE SADDLES OR SEATS; ACCESSORIES PECULIAR TO CYCLES AND NOT OTHERWISE PROVIDED FOR, e.g. ARTICLE CARRIERS, CYCLE PROTECTORS |
| G01N | 5 | INVESTIGATING OR ANALYSING MATERIALS BY DETERMINING THEIR CHEMICAL OR PHYSICAL PROPERTIES |
| H04M | 5 | TELEPHONIC COMMUNICATION |
| A61F | 4 | FILTERS IMPLANTABLE INTO BLOOD VESSELS; PROSTHESES; DEVICES PROVIDING PATENCY TO, OR PREVENTING COLLAPSING OF, TUBULAR STRUCTURES OF THE BODY, E.G. STENTS; ORTHOPAEDIC, NURSING OR CONTRACEPTIVE DEVICES; FOMENTATION; TREATMENT OR PROTECTION OF EYES OR EARS; BANDAGES, DRESSINGS OR ABSORBENT PADS; FIRST-AID KITS |
| G02B | 4 | OPTICAL ELEMENTS, SYSTEMS, OR APPARATUS |
| H04W | 4 | WIRELESS COMMUNICATIONS NETWORKS |
| C25B | 3 | ELECTROLYTIC OR ELECTROPHORETIC PROCESSES FOR THE PRODUCTION OF COMPOUNDS OR NON-METALS; APPARATUS THEREFOR |
| G02F | 3 | DEVICES OR ARRANGEMENTS, THE OPTICAL OPERATION OF WHICH IS MODIFIED BY CHANGING THE OPTICAL PROPERTIES OF THE MEDIUM OF THE DEVICES OR ARRANGEMENTS FOR THE CONTROL OF THE INTENSITY, COLOUR, PHASE, POLARISATION OR DIRECTION OF LIGHT, e.g. SWITCHING, GATING, MODULATING OR DEMODULATING; TECHNIQUES OR PROCEDURES FOR THE OPERATION THEREOF; FREQUENCY-CHANGING; NON-LINEAR OPTICS; OPTICAL LOGIC ELEMENTS; OPTICAL ANALOGUE/DIGITAL CONVERTERS |
| H01L | 3 | SEMICONDUCTOR DEVICES; ELECTRIC SOLID STATE DEVICES NOT OTHERWISE PROVIDED FOR |
| H04B | 3 | TRANSMISSION |
| H05B | 3 | ELECTRIC HEATING; ELECTRIC LIGHTING NOT OTHERWISE PROVIDED FOR |
This is a remarkable list. Shock Absorbers (F16F), Electronics (G06F), Telecommunications (H04L), Plants (A01H), Bicycles (B62K), Sound Equipment (G10K), Pharmaceuticals (A61K) and Medical Devices (A61B) are all included. The diversity is impressive.
Plant Patents
The above is based on Utility Patent grants. These are the most important "inventions". However, there is another type of patent where local companies excel. "Plant Patents" cover new types of plant hybrids. From 2001 to 2018, the leading plant patent recipients were:
| | |
| --- | --- |
| Plant Patent Recipient | Patents (2001 to 2018) |
| Driscolls Inc | 169 |
| Plant Sciences Inc | 55 |
| Sweet Darling Sales Inc | 24 |
| Berry Genetics Inc | 21 |
| Berry R&D Inc | 19 |
Discoll's strawberry plant patents were profiled in the excellent 2017 New Yorker Article "
How Discoll's Reinvented the Strawberry
".
Here is an example of a Discoll plant patent:
US-PP29966-P2
"Strawberry plant named 'Preakness'".