The
UN Climate Action Summit
recently concluded and received heavy press coverage. There is a significant amount of research being done worldwide that is directly and indirectly related to climate change. IFI CLAIMS has surveyed this activity and the results are shown below.
A Special Patent Classification
Climate Change related patents are classified within the global
Cooperative Patent Classification
system. The CPC system has nine high level sections. These are:
A: Human Necessities
B: Operations and Transport
C: Chemistry and Metallurgy
D: Textiles
E: Fixed Constructions
F: Mechanical Engineering
G: Physics
H: Electricity
Y: Emerging Cross-Sectional Technologies
Within the "Y" section, there is a special class "Y02" defined as "Technologies or Applications for Mitigation or Adaptation Against Climate Change". This definition is very broad and covers many topics, as will be shown below. It is important to understand that a patent may have multiple classifications.
For example, consider
US-20160288800-A1
"Fuel saving driving diagnostic device and fuel saving driving diagnostic system" from Toyota. Its primary classification is "B60W – vehicle control systems", but it is also classified under "Y02T – Climate Change Mitigation Technologies Related to Transportation". This is typical. Most of the patent filings shown below involve a technical innovation that has a positive impact on climate change.
Under the high level Y02 class, there are eight sub-classes:
| CPC Sub-classes | Descriptions |
| --- | --- |
| Y02A | TECHNOLOGIES FOR ADAPTATION TO CLIMATE CHANGE |
| Y02B | CLIMATE CHANGE MITIGATION TECHNOLOGIES RELATED TO BUILDINGS, e.g. HOUSING, HOUSE APPLIANCES OR RELATED END-USER APPLICATIONS |
| Y02C | CAPTURE, STORAGE, SEQUESTRATION OR DISPOSAL OF GREENHOUSE GASES [GHG] |
| Y02D | CLIMATE CHANGE MITIGATION TECHNOLOGIES IN INFORMATION AND COMMUNICATION TECHNOLOGIES [ICT], I.E. INFORMATION AND COMMUNICATION TECHNOLOGIES AIMING AT THE REDUCTION OF THIR OWN ENERGY USE |
| Y02E | REDUCTION OF GREENHOUSE GAS [GHG] EMISSIONS, RELATED TO ENERGY GENERATION, TRANSMISSION OR DISTRIBUTION |
| Y02P | CLIMATE CHANGE MITIGATION TECHNOLOGIES IN THE PRODUCTION OR PROCESSING OF GOODS |
| Y02T | CLIMATE CHANGE MITIGATION TECHNOLOGIES RELATED TO TRANSPORTATION |
| Y02W | CLIMATE CHANGE MITIGATION TECHNOLOGIES RELATED TO WASTEWATER TREATMENT OR WASTE MANAGEMENT |
Therefore almost any technology that consumes energy is covered.
Global Activity
IFI CLAIMS used its global patent database
CLAIMS Direct
to look at climate change related patent activity globally. Specifically, we looked at patent applications from the US, European Patent Office (EPO), World Intellectual Property Organization (WIPO), Chinese, Japanese, Korean and German patent offices (US, EP, WO, CN, JP, KR and DE). Our focus was on first filings with each patent authority (rather than additional filings in other jurisdictions) from the years 2001 to 2019. More than 1.4 million patent applications were considered in the analysis.
Breakdown by Patent Classification Type
Within Y02 ( Climate Change Mitigation Technologies Related to Transportation), counts for the eight sub-classes listed above breaks down as follows:
| CPC Sub-Class | Description | Global Application Count |
| --- | --- | --- |
| Y02A | Adaptation | 178,218 |
| Y02B | Mitigation – Buildings | 134,029 |
| Y02C | Carbon Capture | 12,996 |
| Y02D | Mitigation – Information Technology | 82,927 |
| Y02E | Mitigation – Energy Production | 460,634 |
| Y02P | Mitigation – Goods Manufacturing | 332,813 |
| Y02T | Mitigation – Transportation | 260,256 |
| Y02W | Mitigation – Water Treatment | 116,430 |
Energy production, manufacturing and transportation are the leading areas.
Breakdown by Patent Office
Across the seven patent offices we looked at and for the entire period 2001 – 2019, the breakdown by country is: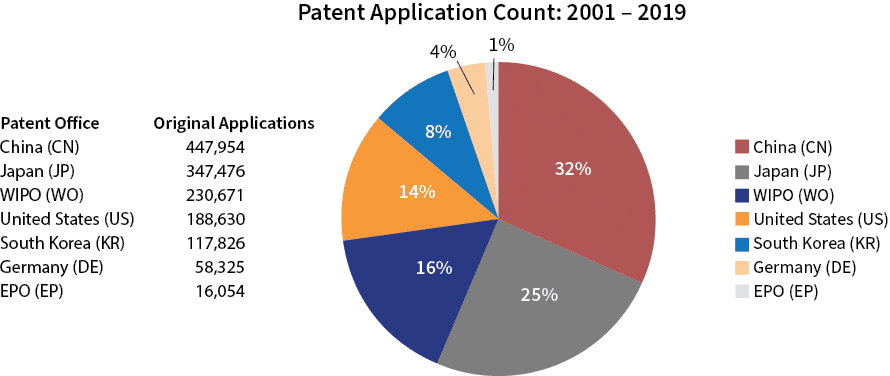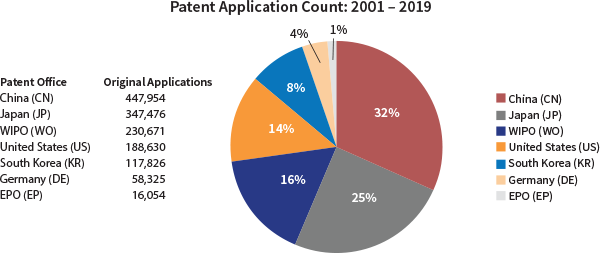 Note that the EP applications count only considered applications first filed in the EP. WO applications do originate from specific nations. Over time, we see that China's activity has increased dramatically while the other regions have generally declined.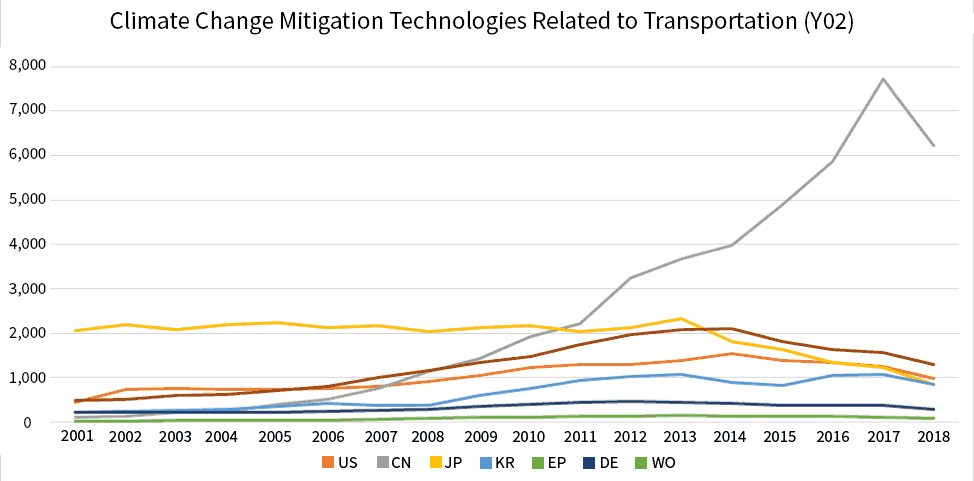 Data from 2001 to 2018 is shown above. The Chinese totals are somewhat distorted by the fact that China was late to adopt the CPC classification system, therefore the graph for China slightly undercounts the data prior to 2017 and 2018.
According to the Union of Concerned Scientists,
China is the world's largest producer of greenhouse gas emissions
. The graph above shows that China is also the world's largest producer of greenhouse gas related patent applications.
Sub-classes by Country
Looking at the CPC Group level, we can see which technical areas are emphasized in each country. The top CPC groups are shown below with the applications counts in each country. The largest technical area in each country is highlighted.
| CPC Group | Description | CN | DE | EP | JP | KR | US | WO |
| --- | --- | --- | --- | --- | --- | --- | --- | --- |
| Y02A/40 | Adaptation – Agriculture | 39,618 | 569 | 323 | 7,850 | 5,859 | 5,410 | 6,122 |
| Y02A/50 | Adaptation – Human Health | 18,493 | 2,380 | 1,024 | 6,538 | 3,081 | 13,512 | 15,670 |
| Y02D/70 | Energy Use in Wireless Networks | 13,628 | 214 | 624 | 7,992 | 4,375 | 10,720 | 11,871 |
| Y02E/10 | Renewable Energy Sources | 57,463 | 10,131 | 3,551 | 38,073 | 21,121 | 26,157 | 40,685 |
| Y02E/60 | Emission Mitigation – Batteries | 38,765 | 4,495 | 1,035 | 80,873 | 22,156 | 13,976 | 21,707 |
| Y02P/10 | Manufacturing – Metal | 22,686 | 1,728 | 551 | 9,028 | 2,070 | 3,991 | 7,195 |
| Y02P/20 | Manufacturing – Chemicals | 30,728 | 1,943 | 1,070 | 12,890 | 2,387 | 12,592 | 16,578 |
| Y02P/60 | Manufacturing – Agriculture | 37,969 | 240 | 411 | 3,865 | 3,110 | 2,094 | 2,619 |
| Y02/70 | Manufacturing – Consumer Products | 22,511 | 2,891 | 923 | 23,441 | 9,304 | 10,767 | 14,697 |
| Y02T/10 | Road Transportation | 28,268 | 24,201 | 2,079 | 79,759 | 16,449 | 26,753 | 42,939 |
| Y02W/30 | Rail Transportation | 36,509 | 1,668 | 618 | 17,000 | 7,470 | 5,573 | 7,922 |

It is interesting that renewable fuels are the leading area in China, although China shows strength in all areas. The group that includes batteries (Y02E/60) is the leading area for Japan and China comes in second. Vehicle transportation is the leading category in the WO, US and Germany.
Leading Companies in Each Country
The leading companies by Y02 patent application filing in each country are shown below.
Country
Top Y02 Patent Applicants (first filing)
US
General Electric Co
Ford Global Technologies LLC
GM Global Technology Operations LC
Intel Corp
International Business Machines Corp
United Technologies Corp
Qualcomm Inc
Boeing Co
Honeywell International Inc
Caterpillar Inc
China
State Grid Corp of China (SGCC)
Zhejiang University
Tsinghua University
China Petroleum and Chemical Corp (SINOPEC)
Shanghai Jiao Tong University
Tianjin University
Huawei Technologies Co Ltd
South China University of Technology (SCUT)
Southeast University
Central South Univ
ZTE Corp
Japan
Toyota Motor Corp
Nissan Motor Co Ltd
Honda Motor Co Ltd
Toshiba Corp
Denso Corp
Panasonic Corp
Hitachi Ltd
Sanyo Electric Co Ltd
Mitsubishi Electric Corp
Mitsubishi Heavy Industries Ltd
Korea
Hyundai Motor Co
LG Chem Ltd
LG Electronics Inc
Samsung Electronics Co Ltd
Samsung SDI Co Ltd
Hyundai Heavy Industries Co Ltd
Kia Motors Corp
Samsung Heavy Industries Co Ltd
Posco Co Ltd
Daewoo Shipbuilding and Marine Engineering Co Ltd
Germany
Robert Bosch GmbH
Daimler AG
Siemens AG
Bayerische Motoren Werke AG
Volkswagen AG
ZF Friedrichshafen AG
Audi AG
Porsche SE
Ford Global Technologies LLC
Continental Automotive GmbH
Fraunhofer Gesellschaft zur Forderung der Angewandten Forschung eV
EPO
Siemens AG
General Electric Technology GmbH
Ford Global Technologies LLC
Alcatel Lucent SAS
Airbus Operations GmbH
BlackBerry Ltd
MTU Aero Engines GmbH
ABB Research Ltd
CRF SCpA
NXP BV
Alstom Wind SL
WIPO
Toyota Motor Corp
Siemens AG
Robert Bosch GmbH
Qualcomm Inc
Mitsubishi Electric Corp
Mitsubishi Heavy Industries Ltd
Panasonic Corp
Nissan Motor Co Ltd
Intel Corp
General Electric Co
Huawei Technologies Co Ltd
Highlighted Technologies
The State Grid Corporation of China
The State Grid Corporation of China is the largest filer of Chinese patent applications in the period 2001 to 2019. It is an example of a Chinese state-owned enterprise. While they file many patent applications in China, they file relatively few outside of China. IFI calculates that 65,302 Chinese State Grid Corp applications were published during the study period, 766 (1.1%) WO applications were published and 173 US applications were published. So very few of the State Grid applications are filed outside of China.
Two interesting WO examples are:
WO-2012171147-A1 Coordination and control system for regulated charging and discharging of pure electric vehicle in combination with wind power generation
US-9037425-B2 Method for determining position of forced power oscillation disturbance source in regional interconnected power grid
China is encouraging innovation in state-owned enterprises, as reported in
Forbes
.
Batteries and Alternative Fuels for Vehicles and Aircraft
Carbon Capture
Carbon Dioxide Absorbent And Method for Absorbing Carbon Dioxide Using the Same
Category Y02C – Carbon Capture is the smallest category, but one of the most interesting. Rather than reduce carbon emissions, perhaps the carbon emissions that are already in the atmosphere can be removed. It is a good idea, but widespread adoption faces many challenges. Here are some interesting examples:
KR-20190101052-A "Carbon Dioxide Absorbent And Method for Absorbing Carbon Dioxide Using the Same" from Korea (pictured above).
US-20190262795-A1 "Adsorbent, method for removing carbon dioxide, carbon dioxide remover, and air conditioner" is from Japan's Hitachi Chemical.
US-9474996-B2 "Photocatalytic material for splitting oxides of carbon. Using a photoexcited electron to split an oxide of carbon (like CO2) into carbon and oxygen."
Agriculture

Agricultural plastic greenhouse from Japan's Organic Nico
Y02A/40 "Adaptation – Agriculture" is an active area. Here are three examples.
CN-108450382-A "Intelligent feeding system based on deep learning" is an interesting agricultural invention from China's Zhejiang University.
JP-2016163541-A "Agricultural Organic Greenhouse" from Japan's Organic Nico (pictured above).
US-20180371484-A1 "Isolated polynucleotides and polypeptides and methods of using same for increasing plant utility", Evogene Ltd.
Water
An interesting example in the water category (Y02W) is US-20190046926-A1: "Soft sensing of system parameters in membrane distillation" from King Abdullah University of Science and Technology (KAUST). It addresses the use of Membrane Distillation as an alternative to Reverse Osmosis for water desalination. In addition to Y02W, it is classified in B01D61/364 (Membrane Distillation) and C02F (Water Treatment).
Information Technology
EP-3543950-A1 "MONITORING OF EMISSIONS BY MEANS OF A DISTRIBUTED DATABASE" (Y02E AND G06Q/10 "Resources, workflows, human or project management") from Siemens AG.
CN-109076350-A "A kind of ascending transmission method and device assisting access LAA system based on authorization" from China's Huawei.
For more information on CLAIMS Direct and our many reports, please
contact us
.