If you're looking for an easy way to do simple patent research, our new
Top 1000 Interactive
tool is the perfect place to start. Based on the top 1000 companies who received US patent grants in 2018, you can search, sort, filter, and generate charts to make your own discoveries. Draw upon the examples below as a starting point.
Search for a Company
Using Siemens as an example, we typed the letters "Sie" into the Assignee box and five Siemens entities appeared. Keep in mind that there may be additional assignees who were granted patents by the USPTO, but we've limited our tool to assignees who made the Top 1000.
Note: we also have a patent ranking based on
parent companies
.

Discover Recent Patent Trends
Siemens Healthcare GmbH showed a 65% increase from 2017 to 2018, so we looked for more information on this trend by clicking "View" under the "Patent History" column. Two graphs appear—the first showing the past five years of published patent applications, and the second showing grants.
Note: At the time of writing, January 2019 is not over yet, and therefore shows a drop off.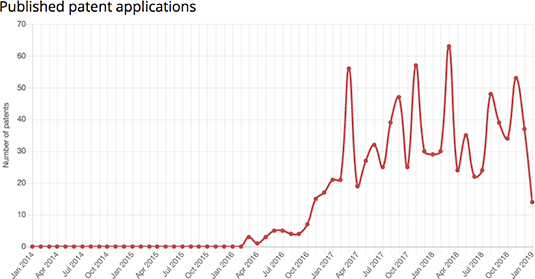 Siemens Healthcare GmbH didn't file any USPTO patent applications under this legal entity (assignee) until early 2016. They very actively applied for patents in 2018, so this could result in another large increase in granted patents for the years 2019 and 2020.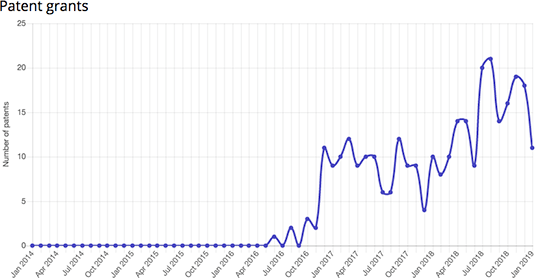 The patent grants graph, also on the patent history page, shows a high correlation to Siemens Healthcare's patent applications.
What's Being Patented?
We clicked on "View" in the Top CPCs column to learn what kinds of inventions Siemens Healthcare is receiving patents for. The resulting chart looks at the top patent classifications for the past five years. Not surprisingly, G06T – Image Data Processing and A61B – Diagnosis; Surgery; Identification were at the top.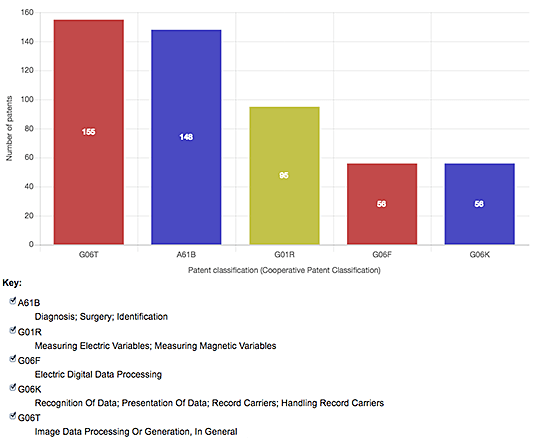 Who is a Competitor?
After reviewing Siemens Healthcare's top CPC codes, we were intrigued by A61B and wondered who else was filing a lot of patents in this area.
First, we hit "Reset" to clear the data, then entered "A61B" in the CPC box. Leading companies patenting technologies in this category include Covidien, Olympus, Philips, and Ethicon.

There are many more uses for the
Top 1000 Interactive
ranking tool, and we'll continue to highlight them in future blog posts.