The ten millionth US Patent will be granted on Tuesday, June 19, 2018. (Update: the patent was granted to Raythoen for a laser detection and ranging system.) Is this just another number, or a true milestone for intellectual property? It depends who you ask.

According to the United States Patent and Trademark Office (UPSTO), "The issuance of patent 10 million is an exceptional milestone. It is a timely and relevant opportunity to promote the importance of innovation, the ubiquity of intellectual property, and the history of America's patent system."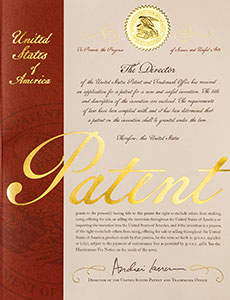 The office is marking the occasion with some special projects including:
A new patent cover design (shown right)
A 10 million patents microsite featuring an interesting timeline of granted patents
The Ten for 10m project, encouraging media outlets to write stories on important inventions in their respective industries
On the other hand, some feel there's nothing to celebrate because the US Patent system is in dire need of reform. Additionally, the US also no longer leads the world in the number of yearly granted patents—last year China granted 420,000 patents compared to 320,000 granted in the US.
One thing that's for certain is that the rate of innovation and invention has continued to accelerate. It took four years to move from patent 8 million to patent 9 million (2011-2015) and three years to move from patent 9 million to patent 10 million.
Since patents are one of the richest sources of technical information available, it makes sense to capture and utilize the knowledge in this exponentially growing knowledge base. The UPSTO states that 80% of the information contained in patents can't be found anywhere else, and other experts believe the figure is closer to 90%. Industries including
life sciences
, medical devices, and high tech are mining the data to learn about advances in their fields as well as to avoid infringing on technology that has already been patented.
Investment professionals
leverage patent information to monitor the R&D activity of technology focused companies.
To be successful in this endeavor, it's essential to use the highest quality patent data available. With patent data growing rapidly, information management has gotten harder. At IFI CLAIMS
®
, we understand that major decisions and millions of dollars hinge on reliable information about intellectual property. That's why we have specialists who monitor the quality of incoming data from the millions of global records added to
CLAIMS® Direct
each month.
Everyone can agree that patents are a key indicator that innovation that leads to economic success. And ten million US patents is a lot!