US patent grants drop slightly in 2018; Chinese companies continue to grow their share
Last month we released our annual patent rankings and trends reports which revealed a 3.5% decrease in granted patents in 2018 from 2017. Leading the way as top assignee is IBM for the 26th year in a row earning 9,100 patents, a slight gain from 2017. New this year, we produced an ultimate ownership report which ranks parent companies by their total number of active patents. Samsung tops this list with 61,608 active families as of December 31, 2018. A family contains all the international documents related to one invention.
Visit our website to view the rankings and trends:
Stay tuned for the update of our Fast Growing Technologies report, which will be released later this month.
IFI releases Top 1000 Interactive patent ranking tool
If you're looking to do some basic patent research, our new Top 1000 Interactive tool gives users easy access to statistics on the top 1000 US patent assignees from 2018. Discover trends and answers to basic questions by searching, sorting, filtering, and generating charts.
See examples of how to use it.

IFI 2019 content roadmap—more full text countries and quality improvements
The content roadmap for this year reinforces our commitment to the quality, reliability, and completeness of the CLAIMS Direct patent repository. Here's a brief summary:
We've already started using an improved source for new Chinese patent data, and we will reload the entire backfile over the first half of 2019.
Full text coverage will increase to 40 patent authorities.
We've upgraded the CLAIMS Direct platform to allow the integration of private and custom data collections. Clients can now take advantage of IFI's data integration, QA, and development services.
Learn more details about the roadmap.
AI is here and making a difference in IP now
Artificial intelligence is already being used in surprising ways to improve the efficiency of intellectual property workflows. At IP Service World in late November, a number of companies showcased how their products are making it easier to find relevant content in an ever growing sea of information. Keynote speakers, representing companies such as Google, IBM, and Siemens, stressed that humans are needed to correctly interpret context and guide the process.
Read the complete wrap up.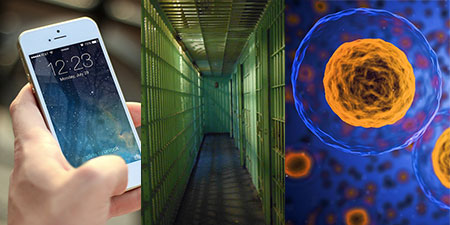 Humans need to interpret the correct context for these three types of cells.