2018 Trends and Insights
The number of patents granted by the US Patent & Trademark Office (USPTO) declined in 2018. Asia continues to be a strong player.
The USPTO issued 308,853 Utility Grant patents in 2018. This represents a 3.5% decline from 2017's record year.
US companies received 46% of these patents. Asian companies received 31% and European companies received 15%.
Chinese companies represent only 4% of 2018 US Grants, but their total of 12,589 US patents is an increase of 12% over 2017. Chinese companies as a group grew their US grant total in 2018—all other countries declined.
US pre-grant publications increased slightly to 374,763 from 372,084 in 2017. This follows declines from 2016 to 2017.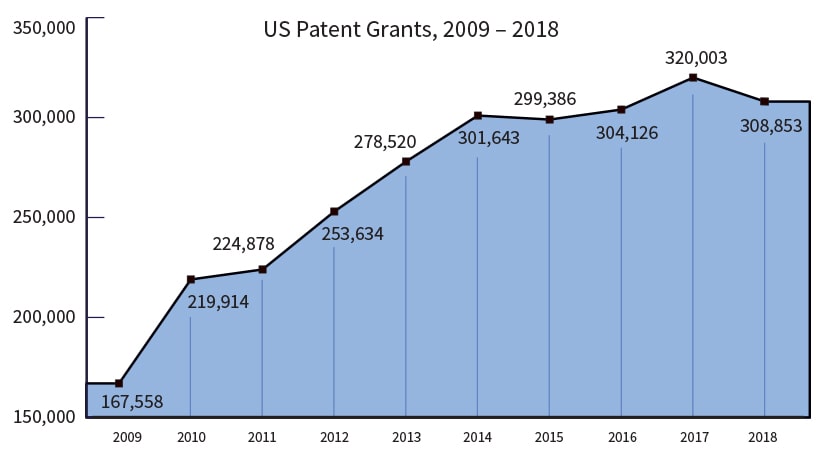 US Utility Grants decline in 2018. In addition to publishing patent grants, the USPTO also publishes pre-grant applications. The patent application will typically be published a year or two before the corresponding utility grant appears. Looking at pre-grant publications, IFI has previously noted a decline in publications in 2015 and 2017. This decline reflected itself in a decline in grants in 2018. Looking forward, published applications increased in 2018 versus 2017 suggesting that the number of grants will start increasing again in 2019 or 2020.
The decline in utility grants affected all regions of the world—except China.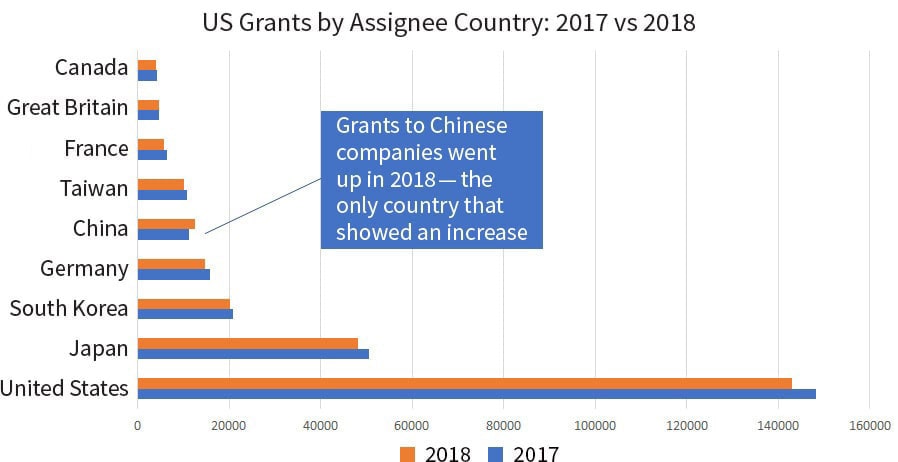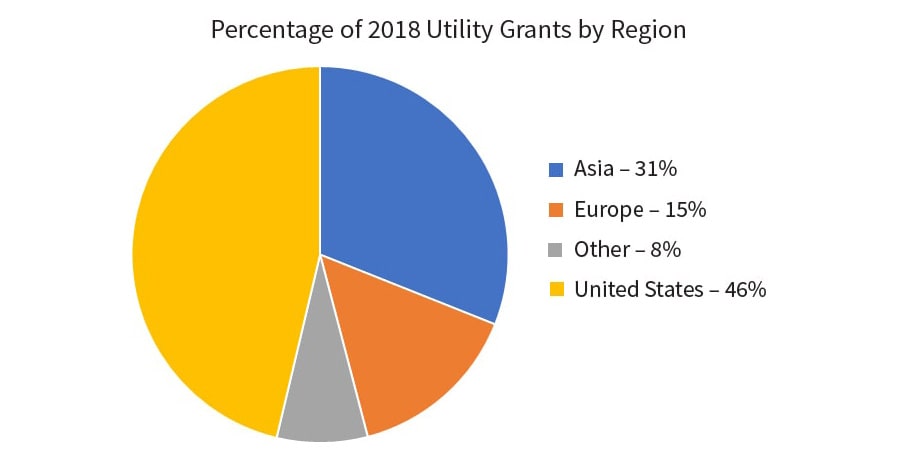 Most of the companies in the IFI CLAIMS Top 50 saw declines in utility grants. IBM made a small gain and Samsung was essentially even. Other leading companies including Canon, Intel, Qualcomm, Apple and Google all showed declines.
Among large US companies Ford Global Technology, Amazon, General Electric and Boeing showed gains.
United Technologies showed a dramatic increase. The increase came in jet engine and turbine related technologies. For example, CPC code F05D "GAS-TURBINES OR JET-PROPULSION PLANTS."
Many Asian companies showed gains including Taiwan Semiconductor Manufacturing, Toyota, Huawei, BOE Technology and Denso.
Patents are classified by the USPTO using the Cooperative Patent Classification system. IFI tracks the number of patent grants that are assigned to each classification. For 2018, most classes saw declines including the computing, telecommunications, and medical patent classifications that top the classification code rankings.
Among the top CPC patent classifications, most showed modest declines from 2017.
Semiconductors (H01L) showed a decline of just over 7%.
G06Q (Business Methods) and G01N (Analyzing Materials) showed modest increases.
Rank
CPC Classification
2018
2017
Change
Definition
1
G06F
48,302
49,817
-3.0%

ELECTRICAL DIGITAL DATA PROCESSING
Leading G06F Company: International Business Machines Corp

2
H04L
32,998
33,820
-2.4%

TRANSMISSION OF DIGITAL INFORMATION, e.g. TELEGRAPHIC COMMUNICATION
Leading H04L Company: International Business Machines Corp

3
H01L
25,139
27,100
-7.2%

SEMICONDUCTOR DEVICES; ELECTRIC SOLID STATE DEVICES NOT OTHERWISE PROVIDED FOR
Leading H01L Company: Taiwan Semiconductor Manufacturing Co (TSMC) Ltd

4
H04W
21,144
21,435
-1.3%

WIRELESS COMMUNICATIONS NETWORKS
Leading H04W Company: LG Electronics Inc

5
H04N
17,419
18,100
-3.7%

PICTORIAL COMMUNICATION, e.g. TELEVISION
Leading H04N Company: Canon Inc

6
A61B
13,750
13,954
-1.4%

DIAGNOSIS; SURGERY; IDENTIFICATION
Leading A61B Company: Covidien LP

7
A61K
13,141
13,683
-3.9%

PREPARATIONS FOR MEDICAL, DENTAL, OR TOILET PURPOSES
Leading A61K Company: University of California

8
G06Q
11,242
11,259
-0.1%

DATA PROCESSING SYSTEMS OR METHODS, SPECIALLY ADAPTED FOR ADMINISTRATIVE, COMMERCIAL, FINANCIAL, MANAGERIAL, SUPERVISORY OR FORECASTING PURPOSES; SYSTEMS OR METHODS SPECIALLY ADAPTED FOR ADMINISTRATIVE, COMMERCIAL, FINANCIAL, MANAGERIAL, SUPERVISORY OR FORECASTING PURPOSES, NOT OTHERWISE PROVIDED FOR
Leading G06Q Company: International Business Machines Corp

9
G01N
10,262
10,136
1.2%

INVESTIGATING OR ANALYSING MATERIALS BY DETERMINING THEIR CHEMICAL OR PHYSICAL PROPERTIES
Leading G01N Company: University of California

10
G02B
9,954
10,120
-1.6%

OPTICAL ELEMENTS, SYSTEMS, OR APPARATUS
Leading G02B Company: Olympus Corp

11
H04B
9,831
9,732
+1.0%
TRANSMISSION
Leading H04B Company: LG Electronics Inc
12
G06T
9,534
9,072
+5.0%
IMAGE DATA PROCESSING OR GENERATION, IN GENERAL
Leading G06T Company: Samsung Electronics Co Ltd
13
G06K
9,254
8,867
-1.6%
RECOGNITION OF DATA; PRESENTATION OF DATA; RECORD CARRIERS; HANDLING RECORD CARRIERS
Leading G06K Company: International Business Machines Corp
14
Y02T
6,964
7,297
-4.0%
CLIMATE CHANGE MITIGATION TECHNOLOGIES RELATED TO TRANSPORTATION
Leading Y02T Company: Toyota Motor Corp
15
H05K
6,726
6,276
+7.1%
PRINTED CIRCUITS; CASINGS OR CONSTRUCTIONAL DETAILS OF ELECTRIC APPARATUS; MANUFACTURE OF ASSEMBLAGES OF ELECTRICAL COMPONENTS
Leading H05K Company: International Business Machines Corp
Ultimate Owner Ranking. The IFI CLAIMS Ultimate Owner ranking is a completely different view of patent holdings. Rather than looking at the grants received in a given year, as the Top 50 ranking does, the Ultimate Owner ranking looks at the current cumulative patent holdings. From that perspective, the Ultimate Ranking looks quite different from the annual Top 50 ranking. Samsung (including its subsidiaries) has the most active patent families by a wide margin.