2019 Trends and Insights
2019 was a strong year for US patents. 333,530 patent grants were issued by the USPTO—an all-time high. After a down year in 2018, US patent grants rebounded by a solid 15%. US published applications grew by a smaller 5%.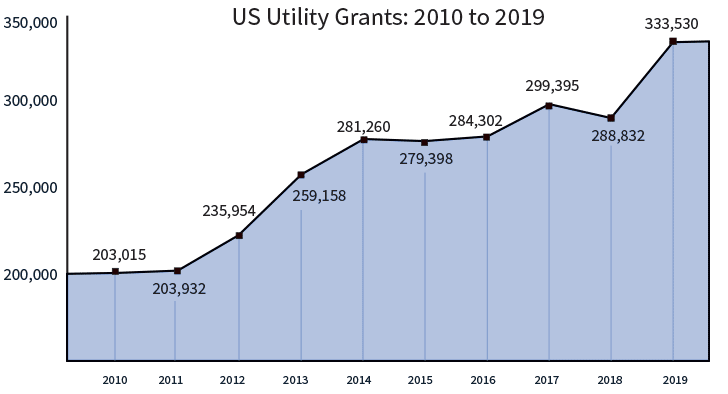 Why the increase? Part of the reason may be improved clarity over what is patentable after the Supreme Court's 2014 Alice v. CLS Bank decision. See the IPWatchdog post by Kate Gaudry & Samuel Hayim Update on 101 Rejections at the USPTO: Prospects for Computer-Related Applications Continue to Improve Post-Guidance.
The growth in patent activity appears despite a slowdown in US capital spending. See the Bloomberg report U.S. Manufacturers Plan First Pullback in Investment Since 2009.
A chart of US utility grants and published pre-grant applications is shown below. Applications are fairly flat while grants decline in 2018 and rebound in 2019.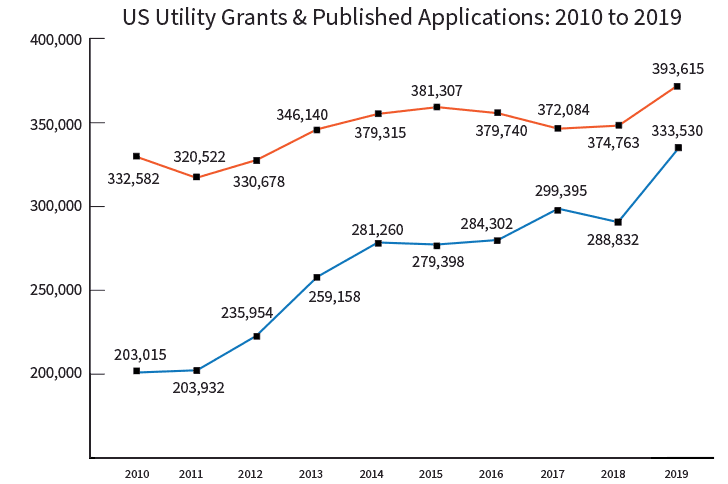 Countries
IFI CLAIMS looked at the countries where the US patent recipients are based. The US leads, followed by Japan and Korea. China shows the strongest growth, continuing a well-established trend.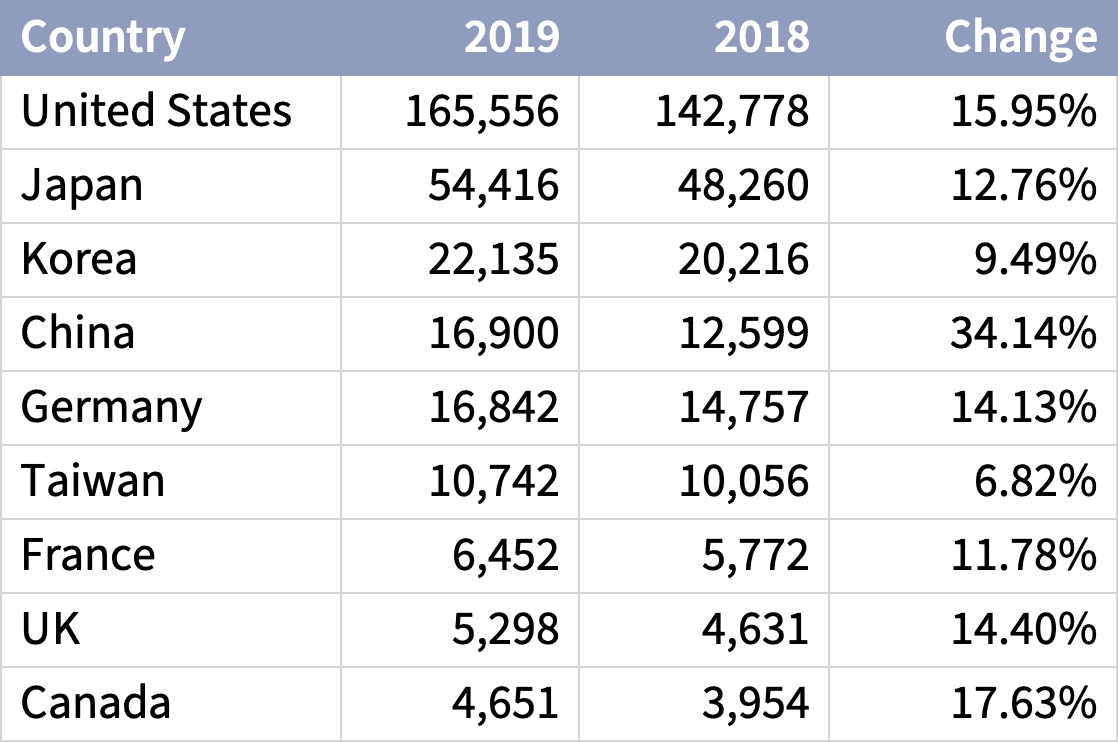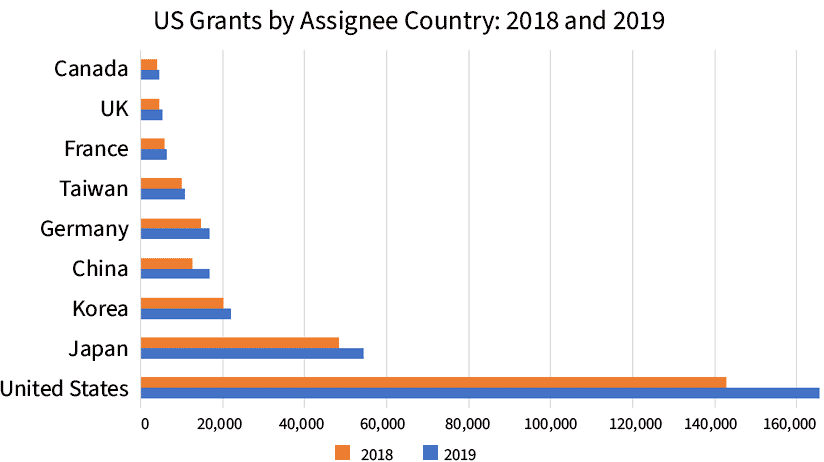 Regions
Looking at the largest patent-producing regions, North America and Asia showed gains. Europe showed a slight decline.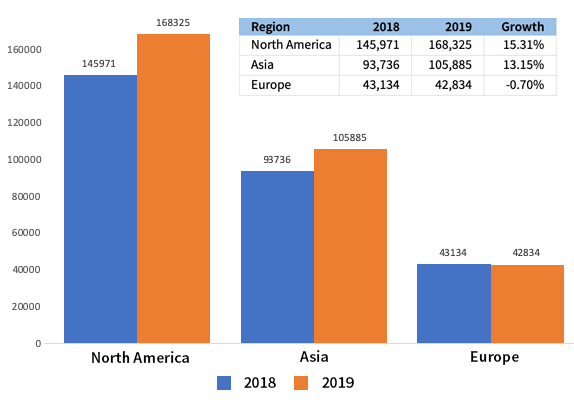 Companies
Top 50 companies that showed strong gains include:
Kia Motors – jumps 55 places to #41
Hewlett Packard Enterprise – jumps 28 places to #48
Facebook – jumps 22 places to #36
Huawei – Huawei jumps up six places to #10
Micron Technology – Micron jumps 9 places to #25
BOE Technology – BOE jumps up 4 places to #13
Microsoft – Microsoft jumps 3 places to #4
LG Chem – LG Chem breaks into the top 50 at #50
Technologies
IFI CLAIMS looked at US patent grants by Cooperative Patent Classification codes. The high-technology classes dominate, as they have for several years. G06F and H04L are the largest classes. A61B (medical devices) showed a strong gain while A61K (pharmaceuticals) showed a modest gain of 5%. G06Q (business methods) showed a strong gain. Business methods and software have been areas with patentability questions.
| Rank | CPC Classification | 2019 | 2018 | Change | Definition |
| --- | --- | --- | --- | --- | --- |
| 1 | G06F | 58,821 | 48,425 | 23.5% | |
| 2 | H04L | 39,301 | 33,334 | 17.9% | TRANSMISSION OF DIGITAL INFORMATION, e.g. TELEGRAPHIC COMMUNICATION |
| 3 | H01L | 28,373 | 25,443 | 11.6% | SEMICONDUCTOR DEVICES; ELECTRIC SOLID STATE DEVICES NOT OTHERWISE PROVIDED FOR |
| 4 | H04W | 24,288 | 21,408 | 13.5% | |
| 5 | H04N | 20,062 | 17,592 | 14.0% | |
| 6 | A61B | 17,447 | 13,875 | 25.7% | |
| 7 | G06Q | 15,873 | 11,504 | 38.0% | DATA PROCESSING SYSTEMS OR METHODS, SPECIALLY ADAPTED FOR ADMINISTRATIVE, COMMERCIAL, FINANCIAL, MANAGERIAL, SUPERVISORY OR FORECASTING PURPOSES… |
| 8 | A61K | 14,183 | 13,474 | 5.2% | |
| 9 | G06T | 12,809 | 9,672 | 32.4% | |
| 10 | G02B | 12,653 | 10,055 | 25.8% | |
| 11 | G06K | 11,910 | 8,988 | 26.8% | RECOGNITION OF DATA; PRESENTATION OF DATA; RECORD CARRIERS; HANDLING RECORD CARRIERS |
| 12 | G01N | 11,788 | 9,941 | 13.5% | INVESTIGATING OR ANALYSING MATERIALS BY DETERMINING THEIR CHEMICAL OR PHYSICAL PROPERTIES |
| 13 | H04B | 11,495 | 9,776 | 13.9% | TRANSMISSION |
| 14 | H05K | 7,027 | 6,657 | 2.6% | PRINTED CIRCUITS; CASINGS OR CONSTRUCTIONAL DETAILS OF ELECTRIC APPARATUS; MANUFACTURE OF ASSEMBLAGES OF ELECTRICAL COMPONENTS |
| 15 | Y02T | 6,778 | 6,806 | -3.7% | CLIMATE CHANGE MITIGATION TECHNOLOGIES RELATED TO TRANSPORTATION |
| 16 | A61M | 6,330 | 5,122 | 23.6% | DEVICES FOR INTRODUCING MEDIA INTO, OR ONTO, THE BODY |
| 17 | G09G | 6,497 | 5,147 | 26.2% | ARRANGEMENTS OR CIRCUITS FOR CONTROL OF INDICATING DEVICES USING STATIC MEANS TO PRESENT VARIABLE INFORMATION |
| 18 | C12N | 5,956 | 5,878 | 1.3% | MICROORGANISMS OR ENZYMES |
| 19 | A61F | 5,891 | 4,728 | 20.1% | FILTERS IMPLANTABLE INTO BLOOD VESSELS |
| 20 | G02F | 5,864 | 4,725 | 24.1% | DEVICES OR ARRANGEMENTS, THE OPTICAL OPERATION OF WHICH IS MODIFIED BY CHANGING THE OPTICAL PROPERTIES OF THE MEDIUM OF THE DEVICES |