Patent data analysis uncovers drone technology leader
In 2014, we wrote a blog post about the drone patent landscape which provided insights on which companies and countries were publishing the most patent documents. Just recently, a story published by CNBC highlights the success of Chinese drone hardware manufacturer DJI, now dominating three-quarters of the consumer market. Three years ago when our blog was published, we noted that DJI was active in the rapidly growing Chinese market, but was not a global leader. The company continued its focus on innovation and have surpassed Parrot, Thales, and Honeywell, who were category leaders back in 2014.
The graph below shows DJI's US patent applications (published pre-grants) from 2014 to 2017. Their 237 applications for 2017 is IFI's projection based on current trends. Clearly, they are overcoming their late start and becoming a leader in the Drone IP space.
New country coverage and translations
At IFI CLAIMS, we're always seeking to expand our data coverage. We recently released full text national patent office data for:
Austria
Brazil
Switzerland
Taiwan
We have also released machine translations for Canadian applications and grants originally published in French by the Canadian Patent Office.
We are in the process of adding Australian full text data and it will be available in the next few weeks.
To learn more and see examples of these new records, read our latest product update.
IFI data enhancements simplify complex patent expiration rules
Knowing if a patent is still in force or when it will expire is a crucial piece of business intelligence. There are many reasons why a patent may not be in force before the end of its 20-year period, the most common of which is non-payment of fees. Patents can sometimes also receive a term extension, most commonly in the pharmaceutical industry.
The chart shows that of all patents filed with the USPTO in 1998, more than half (59%) have expired.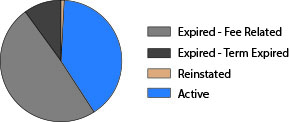 Our easy-to-use Patent Status Indicator and Adjusted Expiration Date fields are calculated from expiration rules and legal status events. We use ten different values to provide you with the full story:
Active
Active - Reinstated
Expired - Lifetime
Expired - Fee Related
Expired
Withdrawn - After Issue
Ceased
Revoked
In-force (EP Designated States only)
Not-in-force (EP Designated States only)
The Patent Status Indicator and IFI's Adjusted Expiration Date are enhanced data fields available to all CLAIMS Direct subscribers. For more details, visit our expiration date blog post.
Featured Partner

Averbis offers Patent Monitor, a patent monitoring software that is based on machine learning. It allows users to automatically classify large quantities of patents into user-specific categories and to assess their relevance with utmost precision. Patent Monitor is based on artificial intelligence, which means that the software learns from the behavior of IP professionals. Compared to conventional, rule-based approaches, patent monitors are up to 400% more accurate and achieve the same accuracy as patented experts. At the same time, it reduces the manual effort by up to 80%.


Averbis integrated CLAIMS Direct into Patent Monitor to enable the instant creation of patent monitoring processes with large patent data sets.
Where we'll be

EPO Patent Information Conference 2017
November 6–9
Sofia, Bulgaria
We are looking forward to exhibiting and attending sessions at the European Patent Office's annual conference. If you will be at the event, please come by our booth to say hello.

Fintech World Forum
Nov 21–22
London, United Kingdom

IP Service World 2017
November 27–28
Munich, Germany